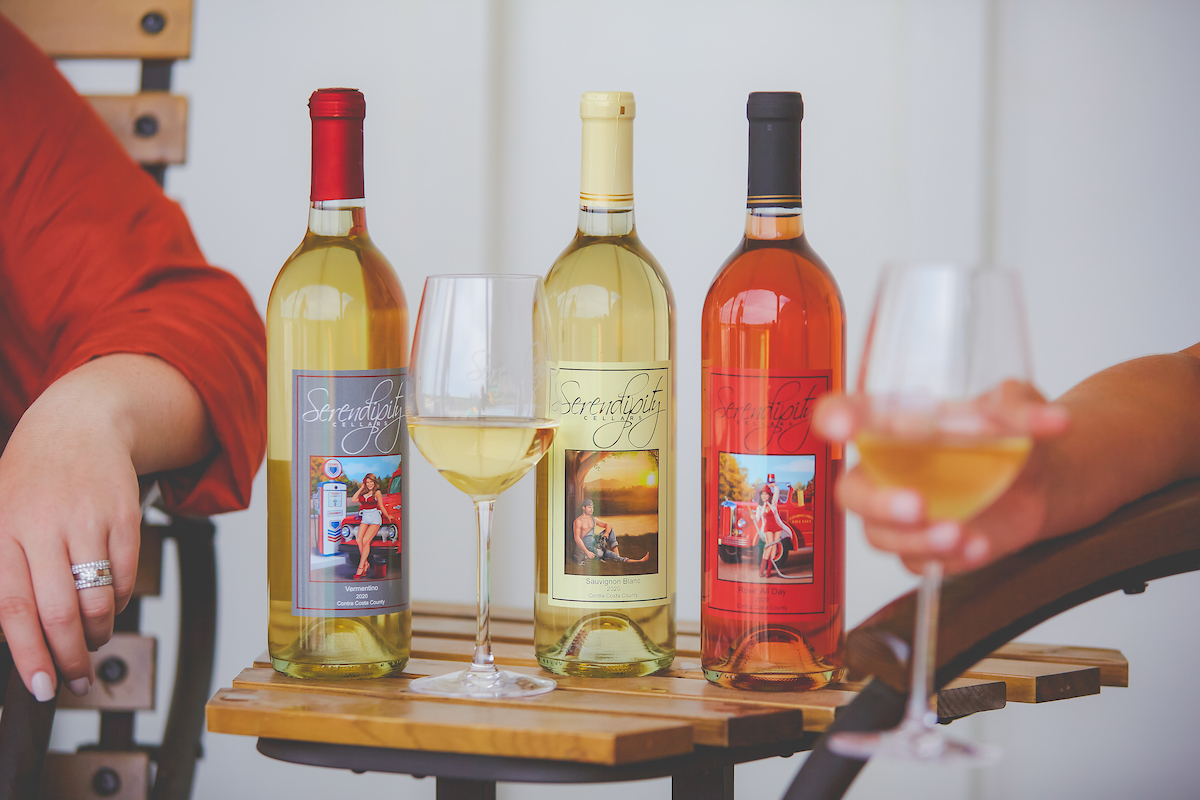 Visit our Newest Winery, Serendipity Cellars
BRENTWOOD'S BOUTIQUE WINERY
BY MICHELLE LASSLE of BetterinBrentwood.com | PHOTOS BY RON ESSEX PHOTOGRAPHY
Bryan and Michele Lucay are not your typical candidates for owning a winery, at least not originally. The couple has always been involved in the construction industry. "I ran a construction company in Dublin for 10 years," said Michele. "Bryan worked for home developers, and then we eventually ventured out on our own to create our landscape, concrete and masonry company GroundWorks Inc. in 2002." The couple also runs a general contracting company called Plan B General Contracting Inc. that they started in 2008.
Not only did their packed schedule seem like a practical reason for not starting another business, but Bryan and Michele were not fans of wine. "We never liked wine; we hadn't been introduced to it," said Michele. "We were margarita people." However, thanks to some unexpected friends, the Lucays turned that story around. When the couple was trying to build their business, Plan B, they sent out flyers to wineries in the Napa/Sonoma area advertising their decorative concrete options for tasting rooms and patios. The Ceja family happened to be having a meeting to discuss the desire to add a logo in their tasting patio; Amelia Ceja discovered the Lucay's flyer, gave them a call, and within a week the couple was working on the project. Pedro Ceja generously offered Bryan and Michele a glass of refreshing Sauvignon Blanc, which they politely declined. After the second offer, the couple gave in and they haven't looked back since. "When we told Pedro that we didn't like wine, he informed us that we just hadn't had a wine we liked yet," said Michele. "We've been friends with them ever since."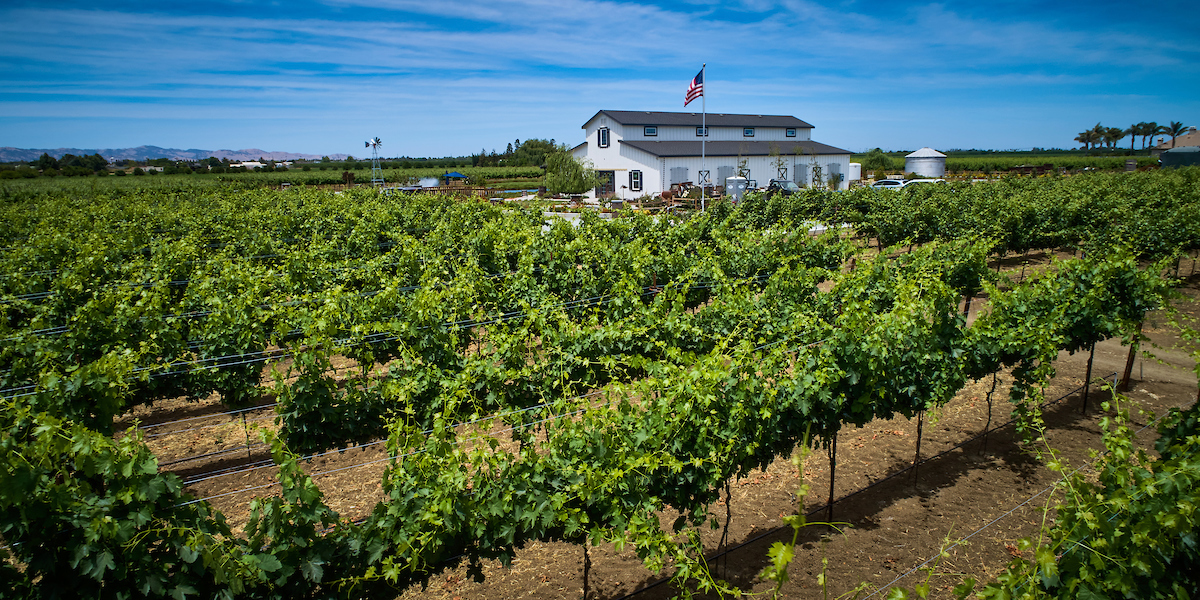 After that, the Lucays had the wine bug. "We then felt the need to go wine tasting, which gets expensive because we always walk out with wine." With the cost of their new found pastime continuing to increase, the couple had an idea. "I'm the type of guy who, when my wife sees something she likes at a store, I say, 'Don't buy it; I'll make it,'" said Bryan. "That's what happened. This stuff gets expensive, so I figured I'd learn how to make it." The journey began in 2009 when Bryan started making wine with whatever he could get his hands on, reading books, and self-educating. "I must have made wine from every vineyard around here at some point," said Bryan. "It's a lot of trial and error harvesting at different PH levels, levels of sugar content (Brix), and using different yeast finding what works."
"Our vines are all still young, so we're working on getting everything balanced. The true story of this vineyard will probably be two to three harvests from now when the vines are mature and we know how they'll produce, how to nurture it, and how to control it,"
Many discussions later, the two took a leap of faith, sold their cabin in Tahoe, and started looking for property. After searching in a variety of places, they found land on Chestnut Street that had previously been used to grow green beans. "We could've gone up to Napa wine country with thousands of other wineries," said Michele, "but I'm happy to be a part of what we're collectively building here." When it came time for Bryan and Michele to come up with a name for what they were creating, they thought back to where it all started. "Whenever we would go back to visit the Ceja family, Amelia would introduce us as her 'serendipitous friends.' So, when it came time for us to plant vines and come up with a name, I thought what would be better than Serendipity Cellars."
Serendipity Cellars currently offers estate grown Sangiovese, Tempranillo, Sauvignon Blanc, Vermentino, Cabernet Sauvignon, and Chardonnay. The 2020 and 2021 fruit for the Chardonnay is currently sourced from Bloomfield Vineyards. As a winemaker, Bryan prefers to grow three to five tons per acre to ensure the best quality product possible. "Our vines are all still young, so we're working on getting everything balanced. The true story of this vineyard will probably be two to three harvests from now when the vines are mature and we know how they'll produce, how to nurture it, and how to control it," said Bryan. With the original opening date predicted for May 2021, the Lucays have had to push back that date multiple times, now hoping to open in August with a plan of operating on a reservations-only system at this time. "We want to make sure we provide a great experience to everyone," said Michele.
Bryan and Michele are excited to be on the ground level of where they can truly go. "I think we all share the desire to bring ag tourism to Brentwood," said Michele. "Everybody has the same sense of heart for Brentwood and its family community. We hope to contribute to that and create a place where people stop by after work and hang out with a glass of wine." Serendipity Cellars plans to offer specific family-friendly times and areas on the property so individuals can choose their own experience. "We want to give the option of coming with or without children so you can have your escape but also make sure everyone is included because family is everything to us."
The Lucays' goal is to eventually spend more of their time at the winery and call that their retirement. "We work a lot, so to be able to do this full time would be the ultimate dream," said Michele. "And if we can have a small part of making Brentwood a place where people want to come and visit, I'd be super proud of that."
From The Press: Owners Bryan and Michele Lucay no longer have to keep their excitement bottled up as their winery, Serendipity Cellars, had its grand opening on Aug. 11 with a small event attended by family and friends.
Although their wines have made appearances at events such as the Brentwood Wine Stroll earlier this year, the opening has been a long time coming, according to the Lucays. The winery is now open to the public for tastings on the second and last Saturdays of each month by reservation. Guests can buy Serendipity's proprietary wines by the glass or by the bottle at the spacious bar area and enjoy their choice of indoor or outdoor seating. The family-friendly setting also includes recreational horseshoe pits and a spot to host food trucks during special events… read more